2006 Bavaria 42 Sloop For Ssle Asking $70K until 6/10/2017 unless you are a broker then the Price is $100K
C Nut is a tri-cabin design performance oriented Cruiser. I sailed this boat across the Atlantic to the states and back and forth to the Caribbean Three time and also around the Caribbea 3 times and even to Guyana. C Nut was never a charter boat and was always MY Boat. Never abused. Bavaria's are solidly built Germany boat for Baltic, North Sea and Mediterranean cruising.
C Nut is in Good condition with some wear and needs nothing to go cruising for an extended period of time. Some stains on cushions and a few dings and scraps can be found but the boat is ready to make another voyage or cruise around the Caribbean for years. All the extras like paper and electronic charts, Guides, flashlights, linens, extra lines, blocks, clamps etc come with the boat. There are fans in the Cabin and extra comforters for padding on the bunks making C Nut Comfortable
The equipment list is below the pictures.
-->
Technical Data

Length overall
42' 8"
12.99 m
Length hull
42' 6"
12.83 m
Length waterline
37' 6"
11.40 m
Beam
13' 1"
3.99 m
Displacement
20240
9,200 kg
Ballast
6600 lbs
3,000 kg
Draught
5' 11"
1.80 m

Engine


Volvo Penta D2-40 with 40 HP, Saildrive 400 Hours

Fuel capacity
55.5 Gal
210 l
Water capacity
95.5 Gal
360 l

Mast & sail surface

Total sail surface
1000 SQFT
92.90 m2
Height of mast
58' 8"
17.90 m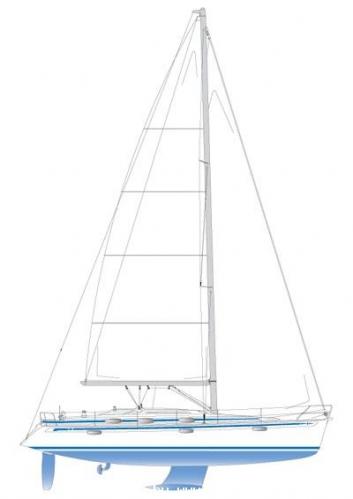 Click for larger view in new window..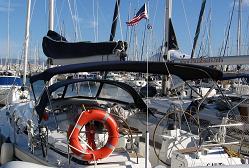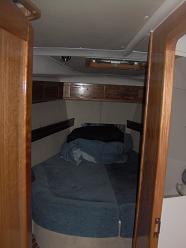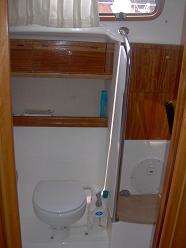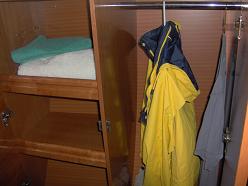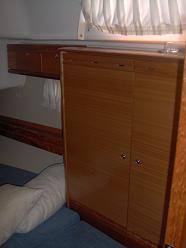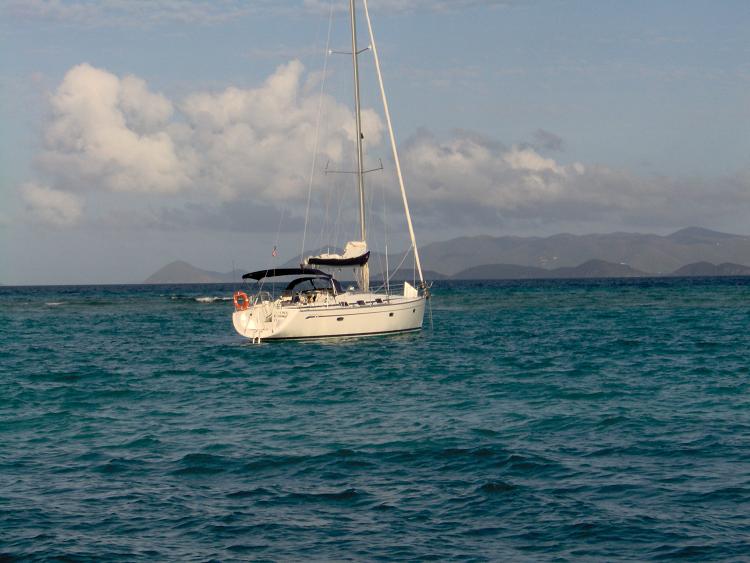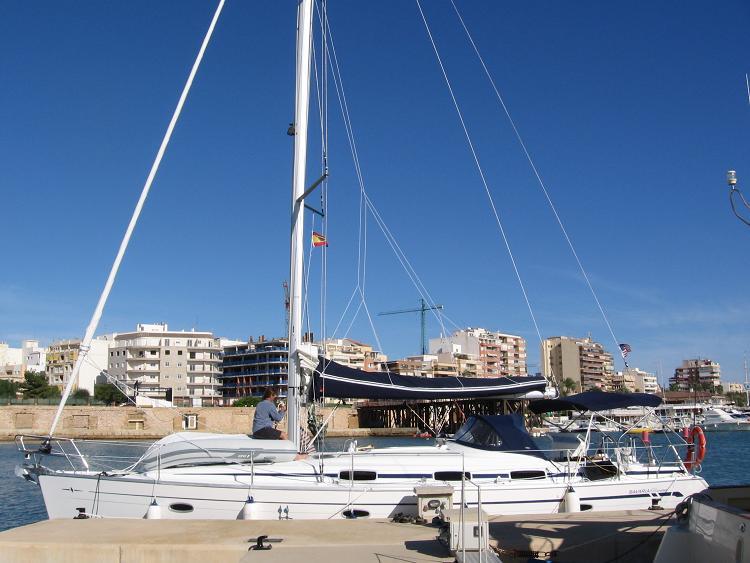 The boat has the standard equipment list with the addition of:
Cockpit Dodger, Bimini and Stack Pack for mainsail
Horizon GX220 VHF with AIS reciever and connection to chart plotter
Ray Marine C80 Chartplotter with GPS antenna W Caribe/East Coast and South America
Spinnaker gear
Volvo Folding Prop
Village Marine 8GPH water maker(may need new Membranes)
2 Sunova 250W solar panel on frame
1 Kyocera 135W solar panel on grab rail
4 coats interlux 1000 interprotect epoxy with 3 coats Petit Ultima bottom paint
ST 6000II Autopilot with intgrated tridata marine data system
Saltwater Foot Pump in Galley
Force 10 2 burner stove with oven
1000 Watt Inverter
Site-tex NavFax Reciever with Att.
33 Bruce with 20' 3/8 chain and 150' 3/4 rode
44lb Spade 200' 8mm chain
Village Marine VIP water maker 8GPH Life jackets, all Safety Equipment( life ring, flares ,horns etc)
Docklines, Fenders, Radar Reflector
10' Hard bottom Dingy with 15HP Yamaha 2 stroke Outboard.
Linens etc.
The boat is ready to go






It is a carefully designed boat with a series of outstanding new features, all included in the standard equipment:

- Double steering wheel
- Double bow fitting and anchor rollers
- Fixed cockpit table with
integration of instruments
- Storage moulded in the deck to completely fold away
sprayhood/Dodger needs isenglass
- Box for halyards in companionway
- Teak on swimming platform and hot/cold pressure Shower in Transom
- More light through panoramic window in the salon
- Better airing due to additional portholes in the hull
- Bigger bathrooms, all strictly high quality material
- 1 fridges
- New chart table design with a lot of storage space and
a panel prepared for integration of
instruments


Click for larger view in new window.. The boat has the standard equipment list with the addition of:Cockpit Dodger, Bimini and Stack Pack for mainsailRayMarine 506 VHFRay Marine C80 Chartplotter with GPS antennaSpinnaker and gearVolvo Folding PropVillage Marine 8GPH water makerKyocera 80W solar panel4 coats interlux 1000 interprotect epoxy with 3 coats Petit Ultima bottom paint ST 6000II Autopilot with intgrated tridata marine data systemSaltwater Foot Pump in Galley700Watt InverterSite-tex NavFax Reciever with Att.44lb Danforth Hi Tensile Anchor with 20' 3/8 chain and 150' 3/4 rode44lb Spade 150' 8mm chainExtra 140AH Battery for 280 totalLife jackets, all Safety Equipment( life ring, flares ,horns etc)Docklines, Fenders, Radar ReflectorLarge Stainless Steel Grill mounted on aft rail10' Hard bottom Dingy with 5HP Mercury 2 stroke Outboard.Linens etc. The boat is ready to goIt is a carefully designed boat with a series of outstanding new features, all included in the standard equipment:

Click for larger view in new window.. The boat has the standard equipment list with the addition of:Cockpit Dodger, Bimini and Stack Pack for mainsailRayMarine 506 VHFRay Marine C80 Chartplotter with GPS antennaSpinnaker and gearVolvo Folding PropVillage Marine 8GPH water makerKyocera 80W solar panel4 coats interlux 1000 interprotect epoxy with 3 coats Petit Ultima bottom paint ST 6000II Autopilot with intgrated tridata marine data systemSaltwater Foot Pump in Galley700Watt InverterSite-tex NavFax Reciever with Att.44lb Danforth Hi Tensile Anchor with 20' 3/8 chain and 150' 3/4 rode44lb Spade 150' 8mm chainExtra 140AH Battery for 280 totalLife jackets, all Safety Equipment( life ring, flares ,horns etc)Docklines, Fenders, Radar ReflectorLarge Stainless Steel Grill mounted on aft rail10' Hard bottom Dingy with 5HP Mercury 2 stroke Outboard.Linens etc. The boat is ready to goIt is a carefully designed boat with a series of outstanding new features, all included in the standard equipment: