2006 Bavaria 42 Sloop For Sale Asking $59K unless you are a broker then the Price is $100K

Most Common Questions
The boat has never been Surveyed. I got it the end of 2006. It has mostly sat in yards or on a mooring since the end of 2016 but I have always made sure it is in working order.
The Above is why I am selling it. Plus the small Child which is not included.
VAT was not paid in the EU. I sailed it through the Med and lef for the Caribbean.
I will not email pictures. I am in the process of posting more so check back. If there is something specific you want to see message me and I will try to accomodate. The ones on FB are less than 2 months old as of 5-27-20 There are lots of pictures here.
C Nut is a tri-cabin design performance oriented Cruiser. I sailed this boat across the Atlantic to the states and back and forth to the Caribbean Three times and also around the Caribbea 3 times and even to Guyana. To Know more see the Trip logs but after 2012 I just quit keeping logs except piecemeal entries here and there. C Nut was never a charter boat and was always MY Boat. Never abused.
Bavaria's are solidly built Germany boats for Baltic, North Sea and Mediterranean cruising. The boat can take you anywhere quickly and in style. Relatively fast and I have done 200 miles days quartering down in 30 knots.. as well as almost 8 knots 35 degrees off the wind when the sails were newer. But in general I did not push the boat hard. Although off the coast of Africa... and um once on a beam reach in 35knots between St Lucia and Bequia..
C Nut sailed back to St Thomas over 1/2/2018 to 1/19/2018 from Trinidad after being on the hard for hurricane season so there is No Irma damage. In Trinidad the following where done:

The bottom was inspected for blisters with none found, a new epoxy coat on the keel and bow was applied and 3 coats new bottom paint
Hull to Saildrive Bellows seal was replaced (needs every 7 years) and new drive seals were installed.
Rudder was dropped and bearings inspected and reversed(very little wear but these are often a problem on ) and new rudder tube and seal installed
Roller furler serviced and new lines
Technical Data

Length overall
42' 8"
12.99 m
Length hull
42' 6"
12.83 m
Length waterline
37' 6"
11.40 m
Beam
13' 1"
3.99 m
Displacement
20240
9,200 kg
Ballast
6600 lbs
3,000 kg
Draught
5' 11"
1.80 m

Engine


Volvo Penta D2-40 with 40 HP, Saildrive 400 Hours

 

Fuel capacity
55.5 Gal
210 l
Water capacity
95.5 Gal
360 l

Mast & sail surface

Total sail surface
1000 SQFT
92.90 m2
Height of mast
58' 8"
17.90 m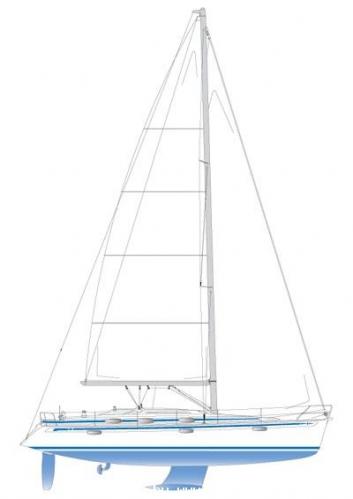 Click for larger view in new window..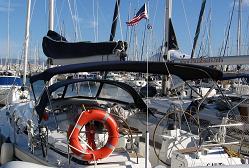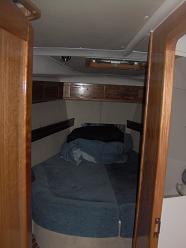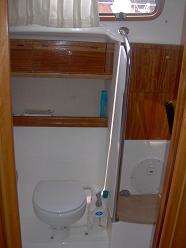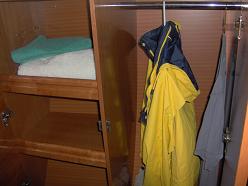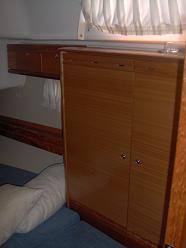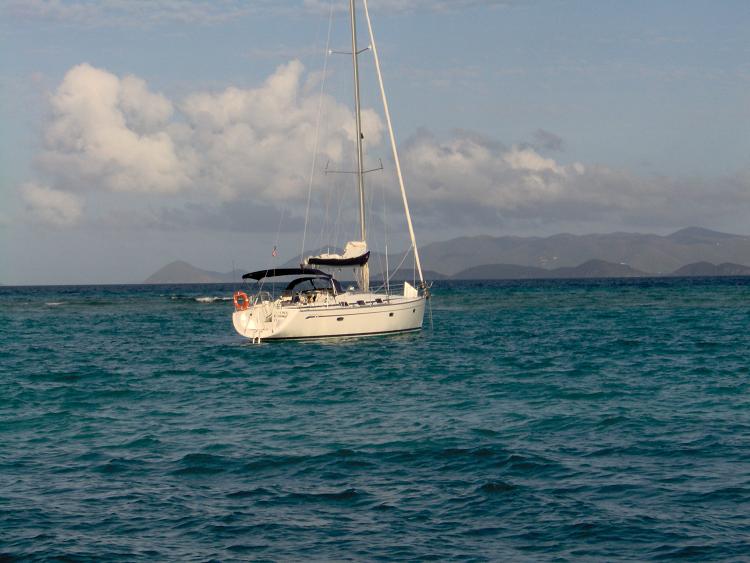 A slideshow of more recent photos in New Window
Cockpit Dodger, Bimini and Stack Pack for mainsail, These all need to be replaced
Horizon GX220 VHF with AIS reciever. Anteanae may need remount.
May not be functionining Ray Marine C80 Chartplotter with GPS antenna W Caribe/East Coast and South America
Spinnaker gear. Quantum sail loft on St Thomas said Spinnaker torn beyond repair so trasehed.
Volvo Folding Prop
1 2007 15hp Yamaha 2 has always started and run. Village Marine 8GPH water maker may need membranes
2 Suniva 250W solar panels on SS frame work over stern
MorningStar MPPT60 Charge Controller 300Watt Sure Sine inverter 1 Kyocera 135W solar panel on grab rail
4 coats interlux 1000 interprotect epoxy with 3 coats Ablative bottom paint 1/20/2018 but needs a bottom jb by now if you like a clean hull
ST 6000II Autopilot with intgrated tridata marine data system. Auto Pilot with new P70R control head (needs installation)
Saltwater Foot Pump in Galley
Force 10 2 burner stove with oven
1000 Watt Inverter
Site-tex NavFax Reciever with Att.
Handheld VHF, Handheld depth meter, extra VHF, Spot lights flash lights, Boat tools, propane fitting adapters, drogue for heavy weather, backup papercharts and all the crap you can think of from 13 years of crusing the Caribbean. 44lb Spade 200' 8mm chain Fortress Guardian Anchor G37 Several extra Rodes with some chain and mooring equipment. 2 morings one in St Thomas and one in Culebra. These cannot legally be sold but the equipment can. Lots of extra and spare lines pretty much for everything.. Life jackets, Safety Equipment( life ring, flares ,horns etc)
Docklines, Fenders, Radar Reflector
10' Hard bottom Dingy Very Poor Condition
Linens etc.
The boat is ready to go