Leaving St Thomas and Selling 2 Completed Apartments in a 7/8 Completed House in West Caret Bay St Thomas
A beautiful spot in Caret Bay Estates on St Thomas in the US Virgin Islands with half the upstairs and a downstairs apartment ready to live in. PRICE is now $400K as the house is almost ready to get it's final inspections. See the page sailingallover.com/vi_house/ For a larger image right click over an image and choose "view Image".
Note some older images are here to give a more complete picture.vi_apartment.html for the Pictures of the gound floor studio Apartment.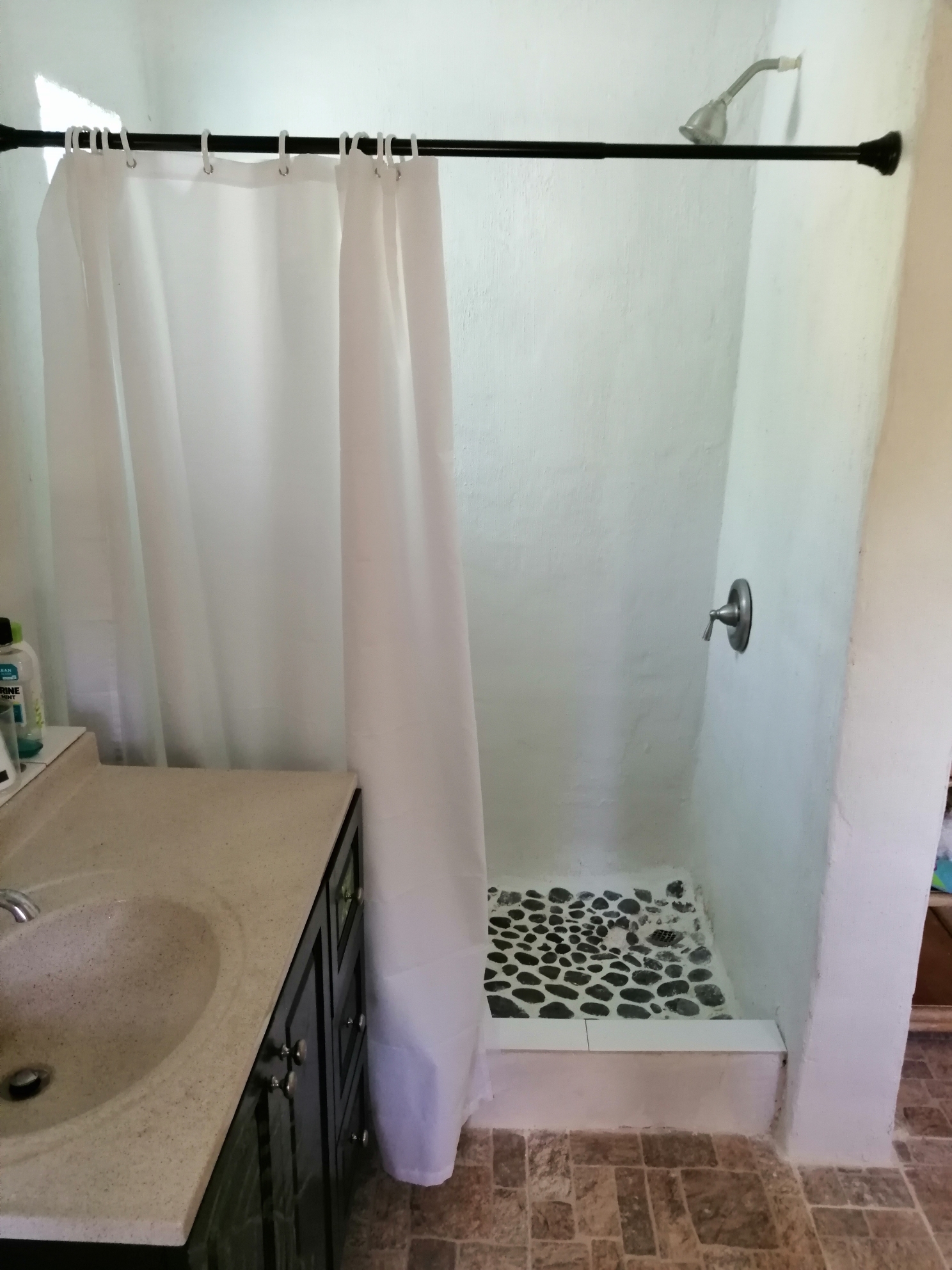 This house is 7/8 Completed and the hard part is done. The concrete shell is completed and the east half has been finished with a complete bathroom, bedroom. closet and kitchen all in working order including AC in the bathroom and bedroom. The remainder and outside plastering. walkways, tiling is being worked on currently along with finishing the west half. When this is done the price will go up again but if you buy now you can install the tiling, colors and front windows you want. Note the is enough tile, bathroom toilets, fixtures, wiring , plumbing, conduit ect to finish the remainder of the house no problem. Only oceanside windows need to be purchased along with doors for the west side. Please do not contact me to window shop. You need to be preapproved or have the cash for a down payment and to get the into a condition where you can get a loan if you need one.
At this point finishing and renting the house make more financial sense but I do want to be rid of this island so will work with a buyer who wants either the investment or a very safe strong house in a very good location.
The floor plans are in the images below.
The house was built to be hurricane and earthquake proof.
From the foundation up, everything is steel reinforced concrete and grouted block with oversized foundation and beams holding up the first floor. I planned to never insure this house as there is no way a hurricane could damage it. The floor walls, windows and interior and waiting for a new owner.. note the plans have smaller windows but you can pick any doors and windows you like!
The plumbing and electrical was put in to allow a second story as well although the plans and current building permit which come with the house only have one floor. There is a very nice finished studio apartment with main room of 16x9,a 5x4 closet and 9x4 bath a on the bottom level. There is a Washer and a 2000 Watt Solar electrical system. The .20 acer lot is planted with bannana, sugar cane, papaya, coconut, passion fruit and mango trees with a long vegetable garden strip on one side down the hill.
Complete set of DesignCAD/AUTOCAD plans as well as complete approved set of building plans await new owners input. Current owner will work with new to complete house. All tools and A LOT of materials, fixtures etc needed are on site and will convey with the house.
The view out over the Atlantic, Inner and Outer Brass Island and a 6 minute trip to downtown Charlotte Amalie or the University of the Virgin Islands make this quiet out of the way lush north side location the place to live.
It is 5 minutes from Hull Bay Beach and Caret Bay beach which are the two main Surf spots...
It already can produce income from Rentals..when the whole thins is done it will bring in about $2000 a month in rentals easy. It is also ideal for college students or professors..and 8 minutes to Brewers Beach and UVI
There is also 8'X16' wood cottage with electricity, double bed, AC, small kitchenette, sink, toilet and outdoor shower stall.
Contact Robert Dinion 340-344-0552 or email Contact SailingAllOver
Apartment Pictures

Shack Pictures