Sailing, River and Jungle Adventures to and in Guyana
Why go?
You will save 1000$ over a haul out and store and there are no hurricanes or even tropical storms to worry about.
You can stay on you boat in a calm freshwater anchorage in a river that will clean the bottom. If you decide to leave your boat you can do it for free very safely and if you want someone to watch it the fees for watching are much much less than Grenada or Trinidad. If you do need paint you can do your haul out in Trinidad on the way back after the rush at a lower price.
Best.. It's a totally different World from the Caribbean down here on the Essequibo. A real Adventure away from the tired touristy sameness of the Caribbean islands. You are not in Cansas anymore. Nobody called MonMeYouPays comes grabbing your lifelines and banging your boat trying to extort a few dollars more while you try to find a restaurant that does not charge $40 for frozen fish. Rum is still cheap.
You are basically in a little Amazon Basin with all the same flora and fauna and there is unlimited room for adventure in the very diverse environments the country contains. It's really very reasonable to fly around or take excursions on the fast river taxis which can take you to waterfalls and places in the jungles, shell beach on the Wiani or south to Lethem and into Brasil. More on that in the Brasil page. And if you want to hike the country is empty and mostly state land so you have almost unlimited wander room. It is at least as safe as the Caribbean these days and the extortion factor is much lower. The People here in Bartica are all very nice and helpful and government officials have all been fantastic. While its a bit of a rough and unpolished town down here on the river it is a Working town where everyone is trying to make their own money either by gold, timber, agriculture or supporting people in those industries. A lot of commerce going on here so as a tourist you are treated special.
Lots of partying here too with the International Platinum Hotel being the hub for that.
But enough.. its your last chance for adventure. COME!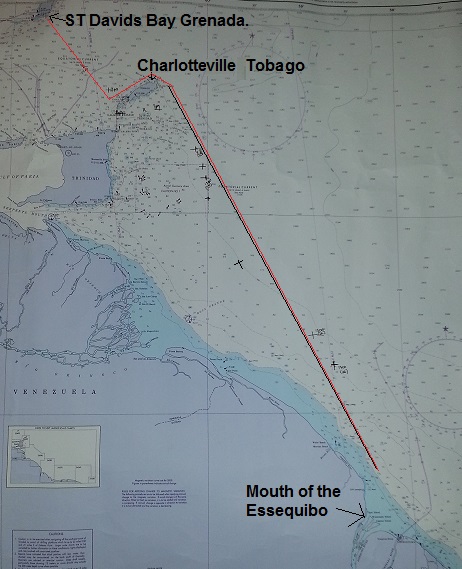 Obviously the first step is getting here to Guyana. While many if not most people do it from Trinidad the advice of Bernard Kleinhenz who has done the trip many times since 1994 as well as from my experience is that it's much better to leave from Grenada. You start off miles east and 80 miles north giving you a close reach to Tabago instead of a motor along the north coast of Trinidad into heavy winds and current.
The exception to this is in the sometimes south or even west winds than can occur during summer in troughs or behind Tropical weather features. These need to be jumped on go as you can kind of thing. If you end up north and east you can always go back south when the wind goes back east.
Otherwise
Start off from Prickly or St Davids for a little extra pre-easting. A rule of thumb is if there is a swell in the bays don't leave as the wind is to far south. Prickly has everything you could want for an extended stay. St Davids has Grenada Marine with a restuarant bar,an Island marine store but no other stores at all. You need to walk a long ways up the hill and get a bus or else get a taxi. No matter you will save later by making some easting along the south side of Grenada close to shore out out of the main current.

Leaving midday should give you an overnight run to Tobago. Simply head as far east as you can. Closer to Tobago on the north side a counter current along the north coast gives a bit of lift and as you can see from the chart we made the SW corner of Tobago easily. Here it would be better to go along the north coast to Charlottteville, overnight or visit and then leave from there. We went through the channel between Trinidad and Tobago and along the south coast so we didn't delay in Charlotte as we were already suffering from sticky port syndrome. But It was a difficult 5 or 6 hours this way with lots of ship traffic going in all directions, fishing boats and a strong current on the Nose.. Motoring along the north coast to Charlotte Harbor would have been much easier Regardless you need to go east to get around all the shoals, oil and gas rigs which extend far out to sea to the east of Trinidad. This puts you a bit more out into the stronger current but into deeper cleaner seas and well away from hazards to start and you are a good ways east. The wind also switches to a more easterly direction and picks up in the afternoons closer to Trinidad as daytime heating causes a kabatic re-inforcment of the Trades. Being farther east makes this no problem as you can sail south even and avoid any obstacles. Once past the rigs make as easterly a course as you can as you can you can always go south. We stayed well north until the last 60 miles then a fast south into the east channel to arrive at dawn on a rising tide. More about that in my trip log.. It is really an easy sail of about 40 hours.

If you get to close to the coast you can motor on in about 30 feet of water being careful of stakes, fish nets marked with float balls and fishing boats. Thirty feet is the depth at which the ocean waves lose their energy to the mud that lays along the bottom. It is a very soft "Sling Mud" which makes the waves simply crest and fall flat rather than causing any kinds of rollers or steep breaking waves. Guyana is not a surfing destination. If you need to anchor for a night carefully go in to about 18' of water or wherever you feel comfortable. Some people go into as little as 12'. Remember there is a 8' tide! We came in with 8-12 seas from the NE and 23 knot winds and while the waves got steep in the 100-30 foot transition zone none broke or gave cause for concern. Then it all flattens out except for a nasty chop with wind against tide situation. But this is easly handled by any ocean going boat. The channel entry and up river details are handled well in the
Doyle Guide Doyle Guide in New Window
With additional advice from my Trip Log entries
Trip Log To Guyana

Trip Log To Guyana in a New Window

Below are three pictures to help sail from Bartica to Baganara and back.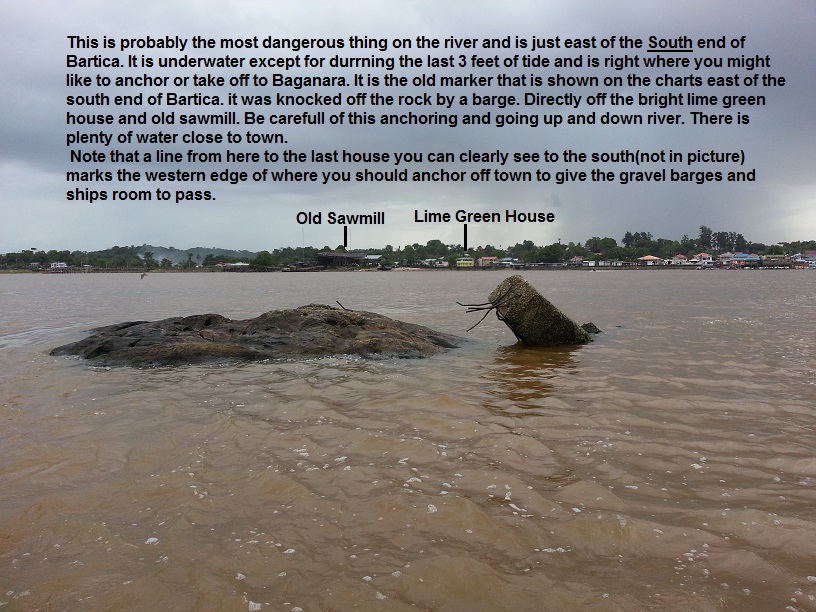 You should read the Doyle cruising guide to Guyana to understand this section.
The Rock in the picture to the left is a real hazard read the note and watch it.
Much has been made of DOIT rock at a reported 06° 22.28'N 058° 36.641'W on the way to Baganara. I have spent several hours in my dingy trying to find this rock with no success. The locals report it just south of the island with the trees which I call Tree Island that you pass east of on your way to Baganara. The rock ledges in the river run NE-SW and there is a ledge here which is basically the extension of Simons rock. But the water is deep just west of and south of Simons Rock.

Going upriver on the flood the currents set STRONGLY west here as it goes through the gap in the ledge. So your cross track error can put you in the rock if you are not watching carefully and correcting constantly.
Throw out waypoint 22 and stay father from Tree Island as suggested. But note that on an EBB tide you get set EAST here so don't end up Simons Rock.
The notes to the guide mentions going west of Tree Island and this should NOT be done.
The locals do it in their small boats but there are several rocks that stick close to the surface at low tide. The Barges( both equipment and gravel) do not favor the west bank here they favor Simons rock which is covered at high water. They favor the west bank up across from Baganara but there is shallow water of about 6 feet 100 yards offshore there. It is not very deep right to shore like farther down river.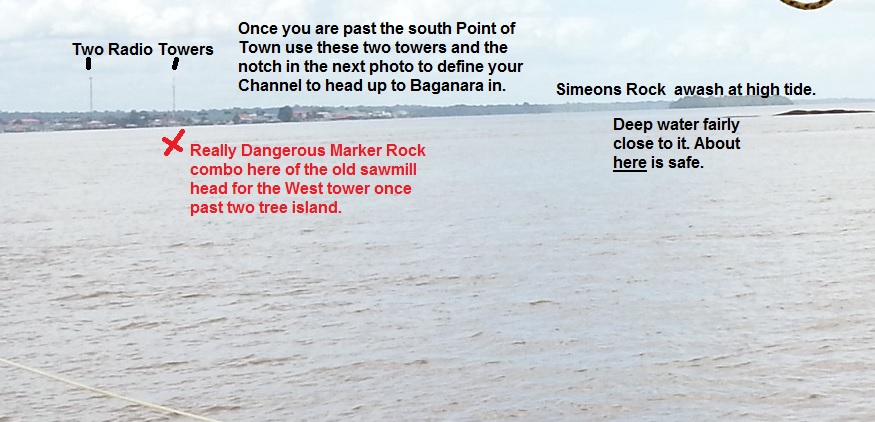 I usually do the Baganara<->Bartica run at mid tide so Simons is visible and favor it as shown in the picture. After 3 months of being here I usually sail it when the afternoon winds pick up. But instead of using GPS I simply use old fashion river navigation skills using landmarks.
Linning up in the channel made by the two tallest radio towers in Town and the Notch between islands in the south as shown in the pictures gives you a clear run to west off Baganara and then turn in. At times as shown in the pictures you will not be going in the direction you are pointing but I find landmarks easier than trying to figure out where in the GPS Road I am and how far I need to turn to get back on it while waiting for a crunching noise. Just watch your back track and front track as you go and you can see just where on or off the road you are. After passing the island with trees on the way north to town I head a little more towards the west radio tower and then the Green House to avoid the old channel marker hazard. Heading to Baganara I simply head straight for it after passing the island with trees but note it is a sand bank between rock ledges bottom in this area so you could hit a sandbank or possibly rock at lower water levels. But I have never seen less than 14 feet.