SailingAllOver Home Page
Sailing from the Cheasapeak Bay to the Virgin Islands...
CREW LIST IS FULL!!!!
Thanks to everyone who voluntered, gave references etc..
PICS
NEW PICTURES--more to come as well

EMAIL sailing@sailingallover.com
NEW VERSION OF Western Atlantic Wind Map



Hello From C Nut ....Captain Robert Dinion
My boat, C NUT a 2006 Bavaria 42 sloop has not sold so the plan is to sail it south to the Caribbean islands again... The boat is still pretty much new, ready to go and can be seen at
Boat
Also a lot of pics on the other trip logs
Spain to Caribbean
St Thomas to the Bay

Departure date around Nov 1 from Annapolis MD or Hampton VA
This question keeps comming up.. you have to ahave a passport or be able to get one! All the contires requireing them now.. Pretty much everyone should have one anyway.. The world is becomeing a smaller place again and you'll need it sooner than later GET PASSPORT
I would like to go the Bay, North Carolina, Bermuda, Tortola BVI route which means ocean passages of 5 days to Bermuda and then 6-8 to Tortola. So this trip will take about 3 weeks. **** Looks like its the Bermuda route for sure unless a low parks itself off the coast for the first three weeks of November *** So if you want to go sailing for a couple weeks and hit at least Bermuda and the Virgin Islands here is an opportunity. The first couple days down the Bay might be chilly but then it should be great...
As always I'll pay boat expenses including food and you cover your own off boat expenses.. Also you are welcome to stay on the boat in the islands for a couple weeks when we get to the VI's if you want.. Anybody interested message me.... ..I would like to take a little bigger crew this time..to ease the load and make it more fun.. Some cruising around the Caribbean islands will happen as well and crew is welcome to join in that. The goal here is to use and enjoy the boat not just get it down south.. This is a real chance to learn a lot about sailing and get blue water experience, catch some fish..see some islands..that kind of stuff..
I'm a USGC licensed Captain with over 20000 ocean miles including an Atlantic crossing. References from other people who have joined previous trips available as well as trial sails if you are in the DC area. Bad weather will be avoided and an adventurous attitude and willingness to pitch in is more important than experience as I am very capable of single handing the boat so a lot of experience is not needed. All will be expected to help with watchkeeping, keeping the boat neat and clean and basic sailing chores like raising and lowering sails, keeping gear stowed etc. This is not a dating or hook up gig it is about sailing the boat south and having for what many people is the experience of a lifetime... The Log will start here..
9/28/2007
Here we go again!!
10/2/2007
Leaving St Thomas tommorow for Annapolis for the boat show. Anybody going to be there and wants to meet up send a message!
10/18/2007
Shannon has joined the crew....Rob will join in Bermuda.
10/21/2007
Margerat has joined the crew....
10/23/2007
Lauren time off work came through and Mikes wife said OK so we now have a crew of 5
Pics and more to come Now!! Ok So the names in order of signing on are
Shannon, Margaret AKA Meg, Lauren, Mike and of course yours truly Robbie..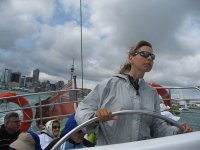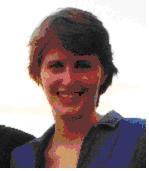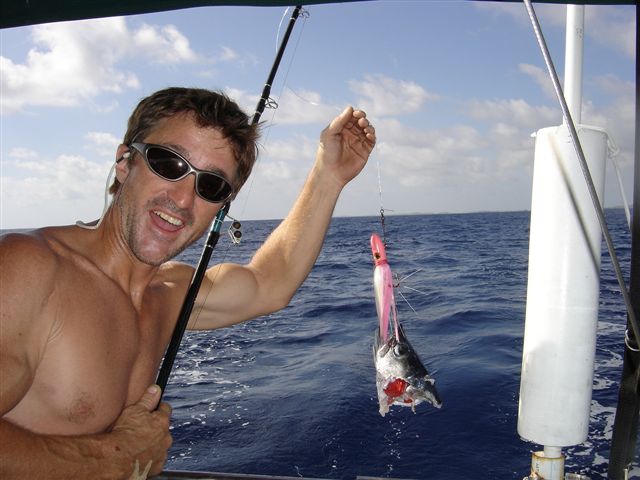 Pic of Lauren soon..

After a week of installing odds and ends on the boat it is about ready to go. Sunday Shannon and Lauren are going to move thier stuff aboard and we will fill up tanks and be set to go. Right now the plan is to meet up at the Boat Oct 30 and perhaps set sail later that night or the next morning down the bay if all is Ready. The latest Oct 31 forecast has a low forming at the mouth of the bay.. Hopefully it will move off VERY quickly..but thats a long ways off..
10/24/2007
Forcast looking better!! The next front is supposed to push all the way past Bermuda now... Now as long as we don't have to motor the whole way in the High that follows...
10/24/2007
The crew is having lively email discussions about food, flights, baseball and pancakes and fishing..
The boat is ready other than last provisions, fuel and water which will happen Sunday so I am taking off to the mountains until Saturday. I put this in an email to the crew and wanted to repeat it here for everyone Also PLEASE PLEASE tell your family and friends NOT to call the Coast Guard if they get worried and DO NOT put out an overdue boat report. This has happened before when people who don't sail start to get worried and not knowing what to do call the CG. Sanna or Nicole will do so if it is warranted and the EPIRB will be set off if anything happens that warrents rescue. Plus with some luck we will be able to check in with other boats that can send an email and nicole or sanna will post it to the trip log on the website. But again we may not. Refer to the Atlantic Trip Log where is keeps repeating "DON'T WORRY"
This trip will be a little odd in that we will try to make Bermuda so we may check in after 5 days but if the weather gets in the way and we go direct it may be 11 or 12 days. SO..if you start to get worried..rememeber.... and this goes for you too Mom
"DON'T WORRY"
Have a great weekend!
10/28/2007
Looking at the latest forcast we don't have a very good weather window for leaving out of the bay for Bermuda Wednesday morning. A large rather elongated Low is supposed to develop over the eastern Atlantic and we would be in a Gale on Friday halfway to Bermuda. Looks like starting next Saturday is a perfect weather window. This is all subject to change of course but generally they don't change much in 5 days and all the models are in pretty good agreement. I do feel we need to get started though but right now it looks like it's down the Bay/ICW Wednesday morning heading to Beaufort NC and out of there into the ocean Saturday morning. Bermuda may or may not be makable..but the boat will be stocked up for either way
10/28/2007
Looks like We Will be heading down to Beaufort NC instead of out to Bermuda on Wednesday morning..due to ummmmmmm
This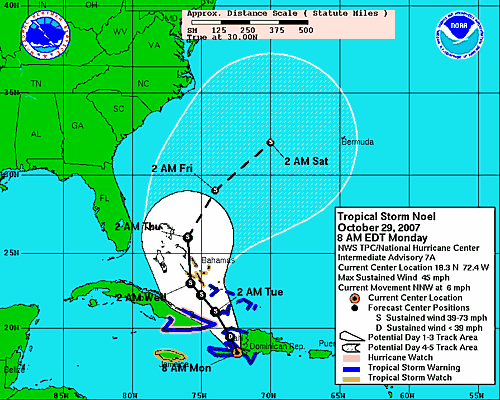 I think the course to Bermuda would take us right through the eye...
10/29/2007
Today we all collect ourselves down on the boat!! Noel's track is the same but is now supposed to accelerate NE very quickly so will be PAST the track to Bermuda on Saturday and over Nova Scotia by Sunday. There will still be a GALE(winds > 35 knots ..dont go there baby) all along the coast Thursday and Friday though so we are going to head out and down the ICW to Beaufort to get South and a tad warmer :) We will jump off from there Saturday morning.. subject to change...
Note for those Concerned about us being in a boat when there is a tropical storm or hurricane out there.
We will NOT be out in the ocean as the storm passes way out at sea (where we WANT to be) but inland going down the Inter Coastal Waterway... a nasty little thing of mostly narrow little muddy channels well inland from the ocean where the water on either side of the channel is only a few feet deep and full of logs so there is NO danger except for running aground which we will almost certainly do once or twice..but I am an expert at getting off.... plus I bought towing insurance yesterday..
soooooo
DON'T WORRY!!! Note..and for anybody that thinks this is directed at them I already had to read it to MY mother..when she said..well surely you will get some waves from Noel.. No we will not ..we will be in narrow little muddy channels that go through the swamps of Virginia and North CArolina..except in the sounds for all of 30 miles but still WELL inland from the ocean and protected by land.
If the boat sank the top would still be sticking out of the water.. Soooo
DON'T WORRY
11/1/2007
THis is Robbie's Mom. He just left a msg. that because of high winds they are moored in a marina in Bellehaven, NC for tonight. All safe and trip going well. (Bernice Dinion)
11/4/2007
Please excuse my typing I am standing in bright sun in the hatchway. We are at Beaufort North Carolina and only have a couple hours here since so many boats got jammed up by Hurricane Noel. We rode it out at Dowry Creek Marina in North Carolina and never saw more than 35 knots sustained and and 40knot gust..
Everybody is getting along fine and we are having a pretty good time. Sailed thourgh Pamlico sounds yesterday in anywhere from 12-30 knot winds and did some drill and everyone handles it all fine. Luaren and Mike are both very experienced and capable of handling the boat themselves if need be Meg and Shannon are good sailors learnign more moment by moment. So we have a great crew!
The plan is to leave Beaufort here in a couple hours and slowly put out to the gulfstream about 60 miles and cross it during the day tommorow. The we will head east MAYBE to Bermuda weather and wind depending..if we run into contrary winds we will head sputh straight to the Virgin Islands. SO DON'T WORRY!! We may not be heard from until as late as the 17 if we don't go tot Bermuda. That is when an overdue boat report will be put out and NO SOONER. I am sure you will hear from us by then as the weather window looks GREAT for here to ST Thomas at least.
Also Lauren has a personal 406MHZ EPIRB so we have TWO sattellite rescue beacons We are in for a great trip!
Pics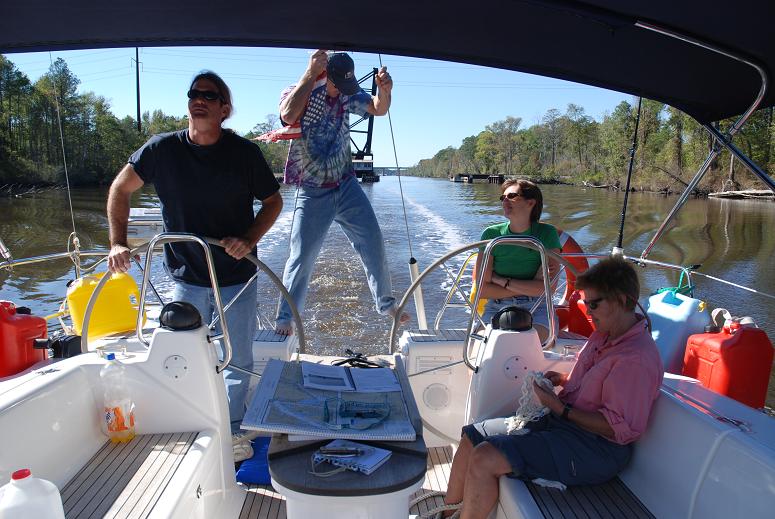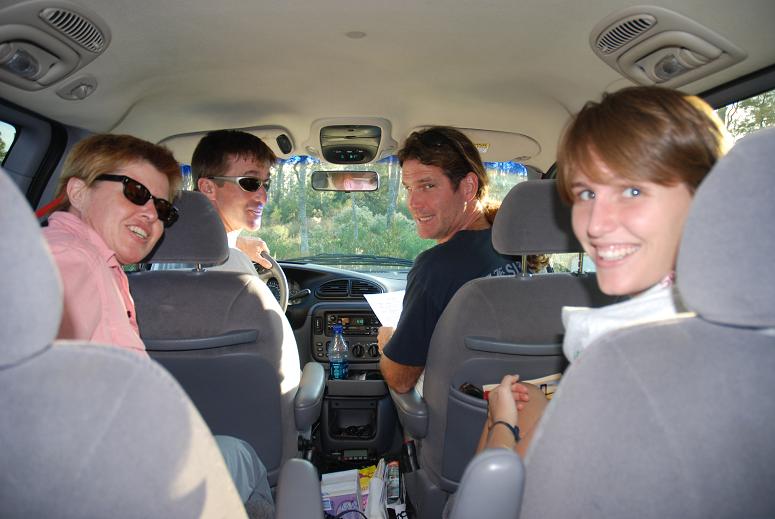 Off to sea at last! Looks like I won't be giving up sailing any time soon. - Lauren
Hello, this is Mike. I have great confidence in the Captain and crew. Anything that we run into that may be considered an ordeal to some, I'm sure will be considered an adventure for us. Darlene, Tasha, Jerica, and Coral - I love you. Tom - Fair weather, and good luck. Yours, Mike
Robbie - So glad all going well. Although pics are mentioned at the end of Mike's input I can't access them. Would love to see them. Good sailing to all of you. Love, Mom
Nov. 13 - 6 P.M.
Robbie just called and they are approx. 5 - 10 miles from St. Thomas and can see their lights. Will try to land tonight, if not tomorrow when all the sailors will be able to contact their families. They are home safe and sound.
Nov. 16
WE ARE IN ST THOMAS AND SAFE AND SOUND. EVEN THOUGH THE VOLVO ENGINE DID NOT START AGAIN!! The boat is now anchored in Honey Moon harbour St Thomas We have been busy the last couple days getting stuff together and eveybody flying off etc. Meg is taking a class, Shannon and Lauren shopping and beaching, Mike and Darlen at Bolongo and me doing the millions and one things that always seem to need to be done.