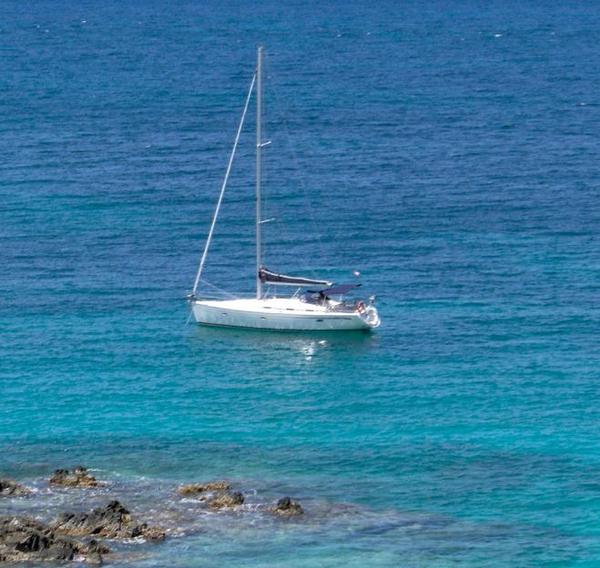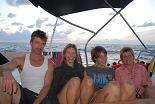 EMAIL sailing@sailingallover.com


Hello From C Nut ....Captain Robert Dinion

THE CREW LIST IS FULL

I will add everyone who responded to future crew mailings.. Thanks!!!

Time once again to move C Nut, my Bavaria 42 sailboat, North from St Thomas US Virgin Islands before hurricane season. This is the BEST and EASIEST trip of the year. The weather is great and the wind is almost always behind(aft) or on the beam(side) of the boat making for fast smooth sailing. The boat is still pretty much new, ready to go and can be seen at
Boat
Also a lot of pics on the other trip logs
Spain to Caribbean
The Cheasapeak to ST Thomas USVI
This trip can go two ways....and the route is dependent upon what the volunteer crew want to do...I am up for either route.
The first route will start out island hopping along the south coast of Puerto Rico which is BEAUTIFUL!! Then sailing north stopping in the Dominican Republic and or Bahamas then from the northern Bahamas to the east coast of the US and the Chesapeak Bay. This trip takes a few weeks if you take your time and enjoy but it IS THE SAILING CRUISE OF A LIFE TIME! While I will pay all boat expenses such as fuel, water basic food, crew will be responsible for thier onshore food and entertainment expense and splitting entry fees to the Dominican Republic and Bahamas if we stop there. Total fees in the DR vary from about $150-$200 total and the Bahamas is $300 total.

The second route is a few days sailing around St Thomas US Virgin Islands or Culebra and Vieques then up to Bermuda(Lauren?? :)) and a week or so there then to the Chesapeak Bay.. STT to Bermuda is about 6-7 days Ocean passage and Bermuda to the Bay is 4-5 Days Ocean Passage....

Plenty of references available..this is the 4th such trip in this boat. Basically it works on a first email first go basis within limits of commitment to the whole trip, balance of experience and motivation. NO DRUGS AT ALL ALLOWED ON THE BOAT..and it is not a drunken partyfest although that does happen at times. But again if you ever wanted to go sailing around a bunch of beautiful tropical islands or get an ocean passage to Bermuda THIS is the trip to go on. It is also a great trip to learn to sail on, I am a willing teacher and usually there is another experienced cewmember who will share experience. Last year I ended up sailing most of this trip alone and thought what a shame it was....By that same token please don't say you are interested in going then play you want to be paid. Many poeple pay upwards of $4000 to go on trips like this to learn to sail, get blue water experience or simply get some Island sailing time in.

I hold USGC OUPV(6 PAC) license and have over 22000 ocean miles including an Atlantic crossing. References from other people who have joined previous trips available. Bad weather will be avoided and an adventurous attitude and willingness to pitch in is more important than experience as I am very capable of single handing the boat so a lot of experience is not needed. Crew will be expected to help with watchkeeping, keeping the boat neat and clean and basic sailing chores like raising and lowering sails, throwing a line to the guy on the dock, keeping gear stowed once you use it etc. In General I try to run as loose a boat as possible within safe guidelines letting the crew make decision as often as possible. Watches only being watching for other boats not chores, lines don't always need to be coiled as long as they are not in the way...when a squall comes up though every thing gets reefed coiled and battened down because you never know how strong it may be. This is not a dating or hook up gig it is about sailing the boat north and having for what many people is the experience of a lifetime...


EMAIL sailing@sailingallover.com

Log:

5/30/2008
So far no commited crew but everyone is asking the departure date. So let me explain a bit.
For insurance reasons ( IMS I higly recommend them) the boat has to be North of FL by July 1st. I can do the trip alone but due to the insurance I cannot go more than 24 hours single handing which mean a lot of stops which takes more time. This has the effect of if no one commits in the next few days I will leave single handing probably Tuesday the 2nd..if someone commits that can be pushed back a few days or a week but that will also mean going straight to the Bahamas(4-6 days) or straight offshore to Bermuda(6-8) because with the light winds this time of year it will take about two weeks minimum to be sure of getting far enough north in time. Basically if someone commits the departure will be pushed to the first day they are available and if not I set out Tuesday the 2nd and anybody can join up later in the DR(Ocean World Puerto Plato around the 7th), T&C (around the 8th or 9th) or Bahamas (GT the 15th, Nassua the 17th, Marsh Harbour or Freeport 18th-19th) as thier schedule allows.
Last year I single handed to the Bahamas picked up 2 crew in Georgetown, drop them in nassu and picked up another crew and then on to Beaufort NC and then single handing from there so anything is possible.

Log:

6/4/2008
Michael
has joined up and come onboard and Shannon from the fall trip is joining up in the Bahamas. Since except for two days from Puerto Rico to the Turk and Cacios we will be island hopping until Shannon joins for the Bahamas and Atlantic leg will go with this crew with of course exceptions for any past crew members always. So the boat is stocked and ready. A Day in Culebra and then one or two in PR and then past the DR to the Turks & Caicos and then up through Bahamas. So we'll be in phone contact 3 more days then nothing but will pick up internet in the Bahamas.
6/06/2008
After a day in Culebra at flemenco Beach and a night of spanish karoke at The Dockside pub we left early for San Juan and arrived about 15:00. We anchored off San Juan marina went walking about town nearby. Back to the boat and crashed
6/07/2008
Toured Old San Juan...the forts and all are pretty amazing and the city reminds me so much of the places on the coast of Spain we stopped it was like being back there. It is a bit touristy in places with the cruise ships comming in there but luckily there were none the day we went. There are also seedy rundown parts right next to the ocena.. crazy to see a boarded up graffit covered 400 year old church. The people were so much friendlier than ST Thomas too..
6/08/2008
So we left on the big leg..about 400 miles or so probably straight to the Bahamas. Teh weathe ris pretty perfect with 15-20K NE winds so we are sailign around 7knts on a beam reach.. a little rolly but I am not complaining after trying to mostly sail dead downwind so far..the sails luft..for those who don't know when trying to sail downwind the sailas can't ever decide which side of the boat they want to be set on and start flapping..add a little roll in the sea and it is worse. So today rocks!! hopefully this will keep up and we can stay squalless and have a great couple days. Mike made grilled Cheese for lunch.. a perfect golden crisp.. he picked up sailing fast.. a little more nav and a little more sail trim and I'll start to sleep.
6/09/08
The wind which was perfect DIED in the middle of the night. somehow we offended the gods and the wind has been around 5 knots instead of the 9-13knts forcast. The high must have sunk farther south or something So much for a fast start to the trip. We tried to sail but have given up and are motoring. Later in the Day the winds picked up and we sailed until about 0100 on the 10th when they died again..
6/10/08
So today was going to be a BIG Adventure Day.. since the winds were dead and we were going right next to it anyway we d decided to explore the SW corner of the Silver Bank. Now if you get a chart and look to the north of Hispainola, the the island with the Domincan Republic and haita on it. You see the large shallow areas out in the ocean called banks. The Navidad Bank si where Christopher Columbus lost the Santa Maria..
On the SW corner of the Silver Bank the chart had some rock and reef that are supposed to be awash at high tide near about 9 meters of water so hey we are going to anchor and snorkle it..THAT WOULD HAVE BEEN SOOOOO COOL.. snorkling way out in the ocean no mud sand or silt or people to trash the reef and too far for most to go..I figuered LObster for dinner for sure!! WELLLLLLLL It WAS NOT THERE.. SOMEBODY MUST HAVE STOLEN IT!! Ok now on the charts is this great big shallow section of ocean about 30x30 miles... and you think we could find at least the corner of it.. NOPE wasn't there.. it was supposed to be right around(ok supposed to be exactly at) 20Deg 15.5 minutes north and 69Deg 55M west..that should have put us a couple miles from the end right near a reef.. But it wasn't there.. so we headed farther north a couple miles up to 20' 18.5" north.. nothing we zagged up to the Northeast for 5 miles and should have been over the bank the whole way but it was not there!! So the charts( both of them) are wrong..and one is a new chart.. they must havre the surveys from the days of Columbus..
I am sure there is probably a bank out there somewhere but we couldn't find it and when the chart proved inaccurate to two miles I decided not to trust it at all and keep heading east... then at least the wind picked up!! YEAAAAAHHHH!! Then soon as the sail were up and set it died..WHAAAAAAAAAAAAAAAAAA!! So another full day of motoring.... and no fish yet either!!!! Maybe some rum??? That at least I know I have and where to find it..Soon as we are anchored!!
6/11/08 Ok so today Mike told me he told his mom he would talk to her in a day or so when we left PR... Great..Mikes mom is having heart attacks now! I told him at least 2 and a half days plus we may not get phone at mayaguana...
So.. anyway the wind came finally and we decided to try another adventure and visit a place called West Sand spit..it is a small sandbar on the edge of the Turks & Cacois bank... We were sailing right by and needed a break and to get of the boat besides it was sooooo cooooll that totally CLEAR water that turns every shade of Turquios, green blue on one side and the deep deep blue of a 1000 ft drop off on the other..we had a bit of trouble finding a spot to anchor at first because the water dropped off so sharply but finally found a spot, anchored and snorkled over for an hour or sooo... SO WE GOT SOMEWHERE!!! Then when we left to make Mayaguana early the next day the wind picked up to about 25 and it got kind of squally..no big deal just reefed the sails and putted over to hell....
6/12/08
Now maybe the attentive reader noticed I said we went to hell ..the reason is I wrote that log entry TODAY after we arrived at Mayaguana!! AND YES IT WAS HELL!! now those who know me may think it was having to deal with customs.. NOPE the 5 minutes I spent on the VHF asking about clearing in were great.. Was it the Bahamians? Nope the out island Bahamians, and it does not get much more OUT THERE than Mayaguana, are some of the nicest people in the world..they help visitors everyway they can..and they really don't ask for much in return which personally makes it so I want to give. If only the people in the BVI's or VI's were that way rather than just plain nasty...and give me ALL your money.. WHAT WAS HELL WAS WE GOT HERE AT 0700 and SPENT UNTIL 1500 trying to anchor somewhere...ANYWHERE..and in 20-25 knot winds that were making the boat really hard to handle...
We started right near Abrahams Bay settlement where we needed to check in to bahamas customs and call everyone to say we were still alive and all that stuff. Abrahams settlement sits right on this 5 mile long bay that has a barrier reef on the ocean side..a place I ALWAYS wanted to explore.....The settlement is on the east end and you get in behind the reef there through the Guano Point reef pass.. but the bay gets shallow quickly once inside on that end so you can go far in.. so right inside the entrance we dropped the anchor and it caught and stuck..cool..
Called for customs, police anybody on the VHF and a nice guy answered and said come on in and we can check you in and OH YEAH!! toss the dingy overboard and just for insurance dive the anchor..OH NO The TINY protrusion of coral it had hooked over was the only thing in the concrete hard flat coral bottom that it could have stuck on.. I couldn't believe it held as long as it did and since the wind was building and there was a nasty reef behind us on one side and open ocean on the other we needed to reset it somewhwere else...so we were going to try a little farther in behind the reef,,but at that point the wind decided to build..and build and HOWL!! Since Guano pass is NOT a good place to be when this happens we headed over to the west entrance of the Bay .. According to the guide books it was a deep all weather entrance easy in easy out a couple miles up the bay and just 3 mile dingy ride to Abrahams bay settlement..
So we went 5 miles down along the outside of the reef watching the waves build and build both outside and inside!!! Needless to say once we got to the the west entrace the break in the reef was easy to find ..it only had 2 foot foam streaked waves and no rolling breakers like there were on the edges over the reef....
Now the next thing in the Bahamas you need to know is when you go into places like this there are always bits of coral sticking up out of the bottom..and some come close to the surface...they are easy to spot as long as the water is settled and the sun up but thats not at all what we had...we could see anythign but foam..so we did not go in. We had GPS waypoints we could have follwed but when you are OUT there..way out there like Mayaguana you make damn sure you don't lose your boat......or even dent it to hard..the nearest boat yard that my boat can get into is a LONG ways away...
So oK we will go anchor on the West side of the island and see about getting a ride to Abrahams Bay... NoW I KNOW GOD HATES ME..IT IS OK...but really we found nowhere decent the anchor would stick..over and over all along the west coast of Maya we tried... here ..there..Off Betsy Settlement, off Pirate wells up down..off the long beautiful 2 mile totally deserted beach...
it did stick once time...in 35 feet of water it jammed under a ledge.....But I dove in to check we would not bend our anchor and also lets not sit here until we want to leave so we have to make sure we can get it out..
turns out the way it sat it would bend the shank ..the point was in a hole the shank went over the ledge and it was NOT comming out unless someon went down and yanked it by hand...Now i can work 25 feet..that I am confidant in I do it all the time..but 35 I thought was beyond my limits...hahahhaah NOT!! I did it I did it!! But then of course it got stuck again as the wind blew us back before we could get it up...this only happened three times..finally we found a place only 18 feet deep we could jam it under a ledge by hand where it wouldn't bend and I trusted to hold us when we left the boat......
So off to shore at Bestys Settlement Did I tell you the out island Bahamian were the nicest people.. We saw a woman in here yard and asked if we could ask a couple questions... where the store was, anywhere to buy a phone card, she offerred to let me use her phone even though it turned out it could not call off island. Then she told us where the people who owned the store lived and told us to go knock on thier door..so we did..they gave us a ride to the store and opened it for us, then a ride back to where we beached the dingy with our stuff. And offered to taxi us to Abrahams Bay in the morning to clear customs...which we did..but thats the next log entry.
LONG day!!
6/13/08
You may have noticed my sloppy typing and grammer..sorry..but ever since the third grade I hated proofreading and editing...remember THAT one mom?
Anyway..in the morning after some boat chores we went back ashore and got a ride into town. The storekeeper/taxi driver also turned out to be the pastor of the local church adn justice of the peace and he gave us a little tour oif the west end of the island. Mayaguana is getting developed in a BIG way.. the whole west center of the island has new roads, a concrete plant, quarry and enough heavy equipment to turn the place into Nassua...
After the island tour and checkin with customs we spent some time looking around the beach then packed up the boat and left for RUM KEY!
6/14/08
Made it to Rum Key.. a very nice place.. went to the marina to check things out..the store..Kays Bar and meet some more great people..Delores the owner, one couple who sailed here in 1994 and then just never left.. and afew other people..this is an island where you want to drop the hook for a long time.
6/15/08
This is now..here are some culebra pics.. click to enlarge..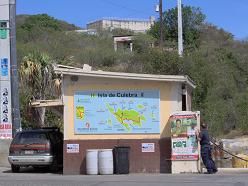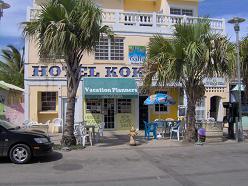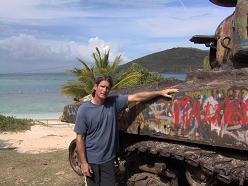 6/15/08-6/20/08
So we have just been Island hopping...Rum Cay to Staniel Cay, check out Thunderball Cave on the net, to Highborne Cay to Nassua where Shannon has joined up... Tommorow off for the Abacos..
6/24/08
Been a couple of days of cruising north through the Abacos and an afternoon and overnight at Great Guana Cay and Nippers we are sick of all this sand and beaches stuff so are going back out into the open ocean to on the 480nm Atlantic leg to Beaufort NC. This should only take 4-5 days but we will be totally out of touch during that time..but as always Don't Worry..The weather looks good but kind of light winds for most of it so it may take 6 days..
6/30/08
So I guess I left us hanging out in the ocean. We got into Beaufort NC on the 28th where Mike jumped ship since it is his home beach and me and Shannon went up the waterway due to bad weather on the outside. All home safe and sound. My thanks to Mike and Shannon.. Here is a link to some pics..sloppy but I'll fix it when I get the time.